Marshalltown

High School




Class of 1958
ANNOUNCEMENTS
FABULOUS 50s! Reunion News Update
The Fab 50s Reunion is a great chance to connect with our own class as well as others from the 1950s. The activities are planned, the costs have been figured out. In early July registration will be posted on the website and also sent to all '58 class members who have requested to be on the mailing list. We hope to see you there!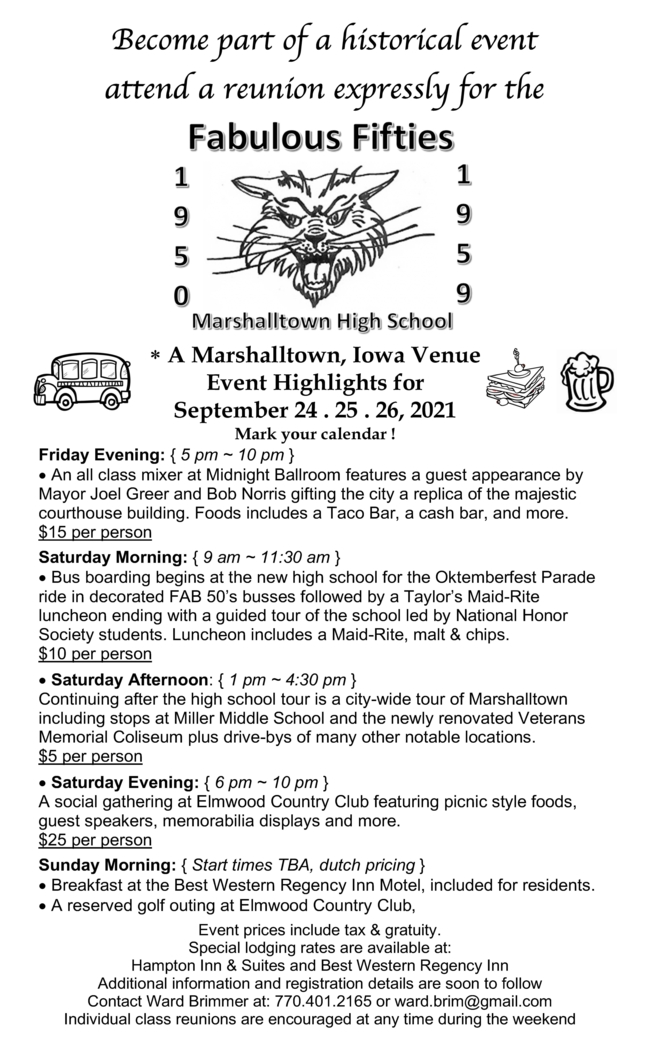 Email Bev Collins (bev@sites and sounds.com) if you have questions or comments; or call me at
719-641-2984.
PLEASE LOG IN TO VIEW ALL THE OPTIONS AVAILABLE TO THE SITE USER
It would be of great help to the class site administrators if you would occasionally go to www.marshalltownhighschool58.com and log in to your Edit Contact Info page. Check your contact information and verify the accuracy of your Email Address, Mailing Address and Phone Number. You can locate this page by going to the left hand naviagion under MEMBER FUNCTIONS and clicking on "Edit Profile."
If you have changed your email address and not updated your Contact Info for some time, you may have permanent delivery failure of messages. To correct this, log in with your old email address and password and follow the instructions to correct permanent email delivery failure. If you have forgotten your old email address, contact bev@sitesandsounds.com. If you have forgotten your password, select the forgot password option, or I can give you a new temporary password.
If you do not see "Member Functions" in the left navigation, please log in.
Thank you.
To date there have been
318,712
hits on our home page
Take a stroll back to our teenage years: http://safeshare.tv/w/ FEDEwZHZXu

Thanks to Jan Pagel (1970), Diana Spick (1970), and Tracy Makler (1978)
for this YouTube video of old town Marshalltown.
Click on the picture to play the video.
(Clicking on this link opens a new page!)
School Hymn
Through the years at our MHS,
Red and blue will proudly fly;
And the spirit of it lingers
As each year goes by.
Many happy times together
Spent in perfect harmony
All these memories we will cherish
MHS of thee.
Lyrics by Marilyn Lawrence
Music by Armon Adams
Friends of the Class of 1958
If you're not from our class, but are a friend to the Class of '58 and would like to be added,
please select 'Contact Us' to send us your name, including maiden if applicable, along
with your senior class year and/or your class connection and we'll add you to the list.
Guest members are listed separately at the end of the Classmates page.
PRIVACY NOTICE: All contact information (address, phone number, e-mail address) entered into this website
will be kept confidential. It will not be shared or distributed. Your contact information is private:
your street address, e-mail address, and phone number cannot be seen by the classmates unless you
grant permission on your Profile. When someone clicks on your name, the only contact information they
will see is your city and state and whatever information about yourself you choose to put on your Profile.
Unless you explicitly grant your permission, your email address is not visible, although an email can be
sent to you using the contact box at the bottom of your Profile page. Note, however, if you send a message
to someone through their Profile page, the Classmate will see your email address so that they can respond.
You may choose to have your profile visible only to logged in classmates by checkmarking the Profile Visibility box.<