Marshalltown

High School




Class of 1958
ANNOUNCEMENTS
In Memory of Beverly Benson Post
Beverly Ann (Benson) Post, 80, of Belmond, Iowa, passed away at the Belmond Specialty Hospital on July 8, 2021. Public Visitation with family present was Monday, July 12 at the Belmond United Methodist Church. A Public Celebration of Life service was held on Tuesday, July 13 at the United Methodist Church Belmond. Burial will be in the Belmond Cemetery. Those wishing to express sympathies though a memorial in Beverly Post's name may wish to consider the Belmond Talbot Public Library, Belmond-Klemme Schools Scholarships Foundations 1 or 2, or to the donor's choice. You may view the service online by going to Andrews Funeral Home Facebook page. Like the page and it will be available.
Beverly was born at the St. Thomas Hospital on October 20, 1940, in Marshalltown, Iowa. She was the daughter of Charlie and Hazel (Speas) Benson. She attended and graduated from Marshalltown Community High School. While in high school she met the love of her life. She married Claude W. Post at the United Methodist Church in Marshalltown on December 20, 1958 and they were together for 62 years. She worked several jobs while Claude attended Coe College in Cedar Rapids. Their union was blessed with four children: Scott, Julie, Gregory, and Geoffrey. They made several moves in Iowa for Claude's teaching career. In 1973, they made their home in Belmond, Iowa and have been residents for 48 years. Beverly was a supportive and active mother while raising her children. She attended many activities during the children's school years and was the best cheerleader there was and a great role model. She was always proud of their many accomplishments.
She was a member of the United Methodist church and was involved in her younger years with committees and teaching Sunday School. Beverly worked various jobs at ACCO Seeds, Coast to Coast and P&G. She retired in the fall of 1998 when Claude retired from teaching. At that time, together they worked for Lifetouch for the next 20 years taking school pictures. They enjoyed traveling northern Iowa going into schools. They enjoyed winters together in Texas and Arizona. (Beverly loved listening to cowboy church in Texas.)
Beverly will be remembered as a loving wife, mother, grandmother, and great-grandmother. Besides her children, the light of her life were her 11 grandchildren and 6 great-grandchildren. She was the best cook, loved to garden and was always ready to go shopping. She will be remembered by her family with her lipstick kisses, Grandma Camps, Magical Christmas gatherings, 4 O'clock happy hour and Cheetos. She enjoyed her quiet time watching Days of Our Lives and the family knew never to call at that time. She enjoyed life and being around her many friends and she always was the life of every gathering.
Her memory lives on in the hearts and minds of her husband Claude "Butch" of Belmond, IA and children; Scott (Kim) Post, Indianola, IA and children Maddie and Carson; Julie (Kevin) Eekhoff, LeMars, IA and daughter Stephanie (Luke) Bernhardt, Levi and Morgan; Gregory (Pam) Post, Spirit Lake, IA, and children Alyssa (Damian) Herman and Grant, Kelsie (Michael) Christensen, Caroline, Emma Kate and Eliette and Eric (Maurece) Post; Geoffrey (Sarah) Post, Lincoln, NE, and children, Emily, Lucas, Noah, Alex and Owen. Sister Barbara Sherman and brother Ronnie (Jan) Benson. Many nieces and nephews she always did her best to keep in touch with.
Beverly is preceded in death by her siblings; Marie Harrison, Dorothy Olsen, Donald Benson, Viola McKim and Robert Benson.
FABULOUS 50s! Reunion - Registration open now
The Fab 50s Reunion is a great chance to connect with our own class as well as others from the 1950s.
Registration is now available for the Fab 50s! Reunion September 24, 25, and 26. The planning committee got a big surprise when two generous donors contributed $5000 and $500 to cover the cost of Friday and Saturday events. There will be no event registration costs for those days. There will be bar charges for events. Sunday events will be pay your own way.
To register, please click on the FABULOUs 50s! REGISTRATION below. It includes the registration form and a schedule of events.
Fill out the registration form and return to Barbara Paxson, 1522 Pinnacle Place, Waterloo, IA 50701.
If you have a change of plans and cannot attend, please update your information with Barbara:
Phone: 319-232-1189 or email: barbarajeans56@gmail.com.
I hope to see many of you at this great event. Thanks to Ward Brimmer, class of '56, for all his organization to put this great weekend together, to the committee members from each of the 50s classes, and to Andrew Potter with the Marshalltown Chamber of Commerce.
Email Bev Collins (bev@sites and sounds.com) if you have questions or comments; or call me at
719-641-2984.
Bev, web site admin.
Here is a look at the scheduled events. Click on image to open in new window.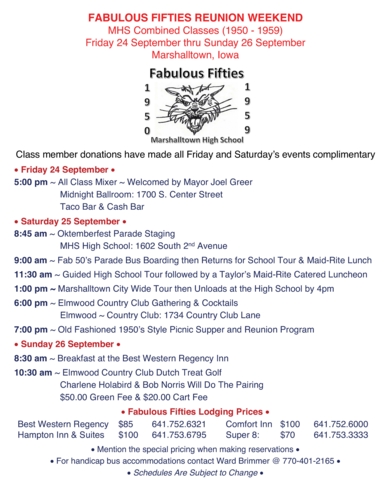 In Memory of Sharon McKibben Eckles
Sharon Eckles, 81, of Marshalltown, IA passed away Sunday, June 27, 2021 at Iowa River Hospice Home. A Memorial Service will be held 2:00 p.m., Wednesday, June 30, 2021 at First United Church of Christ in Marshalltown. Inurnment will be at Riverside Cemetery in Marshalltown. Memorials in Sharon's name could be directed to First United Church of Christ, Iowa River Hospice, Albion Library or Shriners Hospital for Children (donate.lovetotherescue.org). Online condolences may be sent to www.andersonfhs.com.

Sharon Jane Eckles, daughter of Russell and Bernice (Carlson) McKibben, was born June 1, 1940 in Marshalltown. She attended Marshalltown High School graduating in 1958 and later on earned her Associates of Arts degree from Cottey College in Nevada, MO. In September 1960, she married her high school sweetheart Charles Eckles in Marshalltown. To that marriage three daughters were born to them. Years later an unofficial adopted daughter was added, Errin Bohlke. Throughout her life as a homemaker she focused on family and church, hosting, volunteering, and life long learning. She was a member of the First United Church of Christ, Bible Study, Glass Club, and S.C.I Club. Sharon was an avid volunteer for Iowa Veterans Home, Albion Library, and was a reading tutor. You could always find Sharon reading a book, participating in water aerobics or yoga class, swimming, baking and writing notes to her family.

She will be missed by her three daughters; Jane Marie E. (Dan) Cave of LaVista, NE, Julia (Ron) Eckles-Ohrt of Marshalltown, Jocelyn (Jeff) Bruce, Ramsey, MN; nine grandchildren and nine great-grandchildren with two more on the way. She is preceded in death by her husband, parents, and one brother, William McKibben.
Enjoy our complete 1958 Yearbook. The high school has digital copies of yearbooks from 1950, so if you want to see other years, go to: https://drive.google.com/drive/folders/1fBLwu6z48bmfkmgChVGbz9BOvqDZUIMK .
PLEASE LOG IN TO VIEW ALL THE OPTIONS AVAILABLE TO THE SITE USER
It would be of great help to the class site administrators if you would occasionally go to www.marshalltownhighschool58.com and log in to your Edit Contact Info page. Check your contact information and verify the accuracy of your Email Address, Mailing Address and Phone Number. You can locate this page by going to the left hand naviagion under MEMBER FUNCTIONS and clicking on "Edit Profile."
If you have changed your email address and not updated your Contact Info for some time, you may have permanent delivery failure of messages. To correct this, log in with your old email address and password and follow the instructions to correct permanent email delivery failure. If you have forgotten your old email address, contact bev@sitesandsounds.com. If you have forgotten your password, select the forgot password option, or I can give you a new temporary password.
If you do not see "Member Functions" in the left navigation, please log in.
Thank you.
To date there have been
321,737
hits on our home page
Take a stroll back to our teenage years: http://safeshare.tv/w/ FEDEwZHZXu

Thanks to Jan Pagel (1970), Diana Spick (1970), and Tracy Makler (1978)
for this YouTube video of old town Marshalltown.
Click on the picture to play the video.
(Clicking on this link opens a new page!)
School Hymn
Through the years at our MHS,
Red and blue will proudly fly;
And the spirit of it lingers
As each year goes by.
Many happy times together
Spent in perfect harmony
All these memories we will cherish
MHS of thee.
Lyrics by Marilyn Lawrence
Music by Armon Adams
Friends of the Class of 1958
If you're not from our class, but are a friend to the Class of '58 and would like to be added,
please select 'Contact Us' to send us your name, including maiden if applicable, along
with your senior class year and/or your class connection and we'll add you to the list.
Guest members are listed separately at the end of the Classmates page.
PRIVACY NOTICE: All contact information (address, phone number, e-mail address) entered into this website
will be kept confidential. It will not be shared or distributed. Your contact information is private:
your street address, e-mail address, and phone number cannot be seen by the classmates unless you
grant permission on your Profile. When someone clicks on your name, the only contact information they
will see is your city and state and whatever information about yourself you choose to put on your Profile.
Unless you explicitly grant your permission, your email address is not visible, although an email can be
sent to you using the contact box at the bottom of your Profile page. Note, however, if you send a message
to someone through their Profile page, the Classmate will see your email address so that they can respond.
You may choose to have your profile visible only to logged in classmates by checkmarking the Profile Visibility box.<