Maid-Rites for lunch
We gathered in the beautiful Roundhouse for a school tour while waiting for Taylor's
Maid-Rites.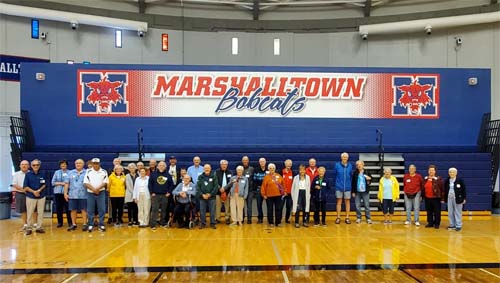 Pretty cool, huh?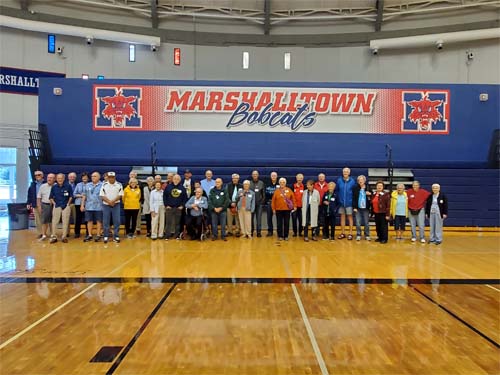 And a cool looking group too!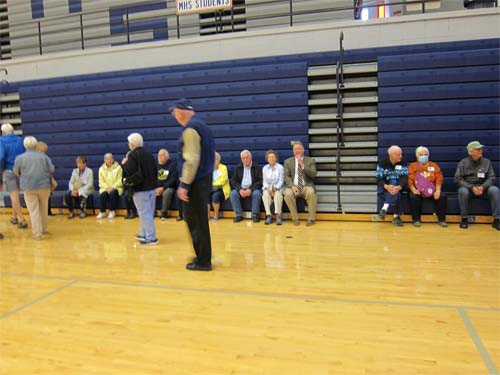 Finding a seat for Eric Weeden's presentation.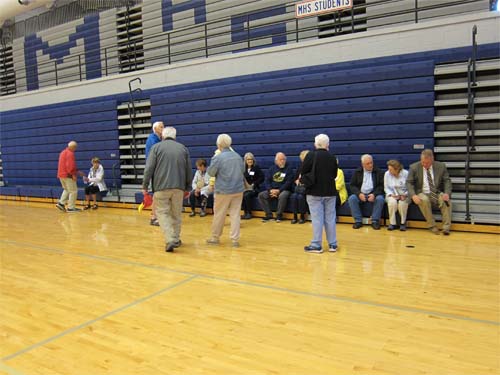 Nice pull-out bleachers in the gym.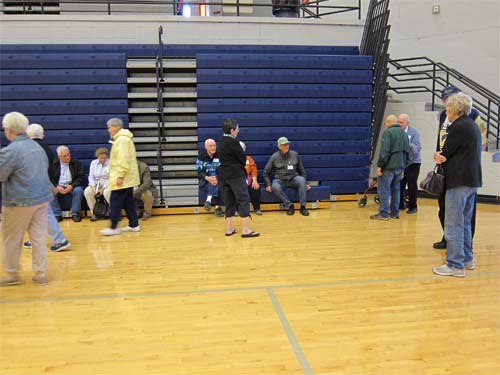 Finding a seat.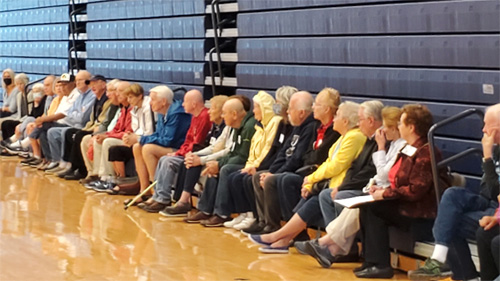 Ready.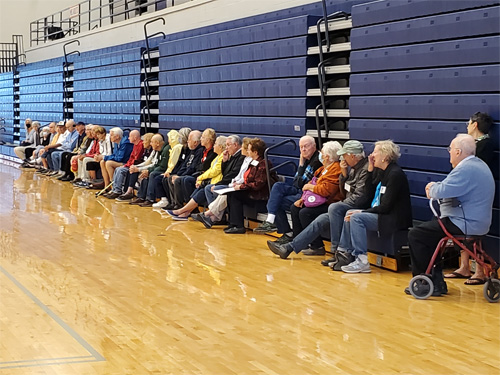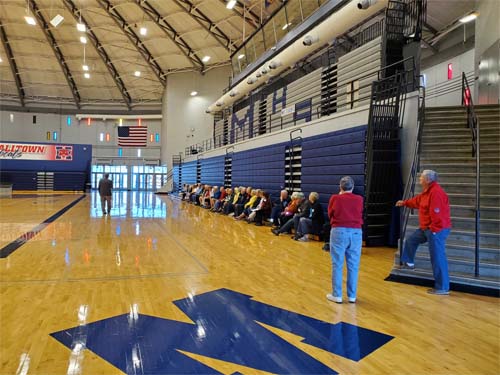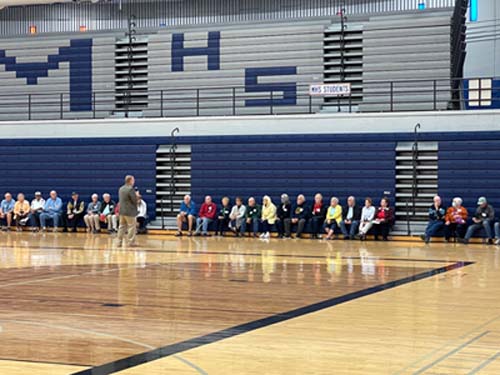 Eric Weeden gave us an update on all the good things happening at the school. The
Roundhouse was built in 1965, and the first game palyed there was against Ames. Today
there are 1500 kids in the high school.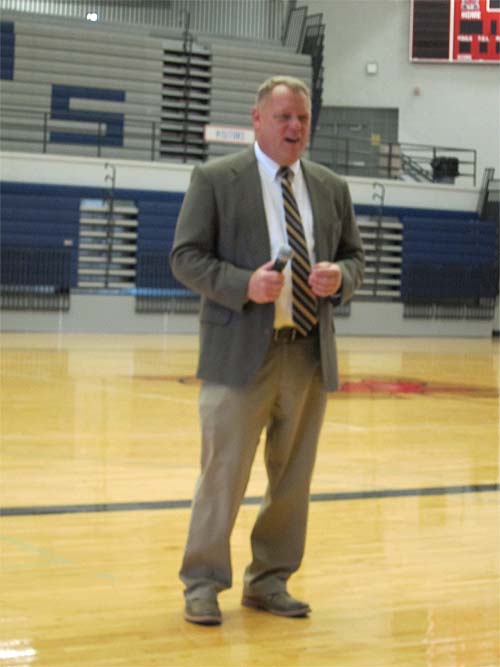 Sports are still big says Mr. Weeden. Some may be familiar with the name Bucky Weeden,
who is his dad.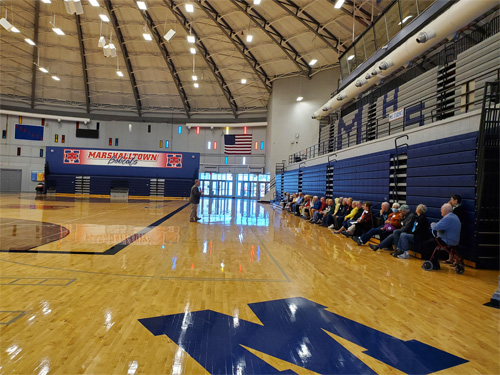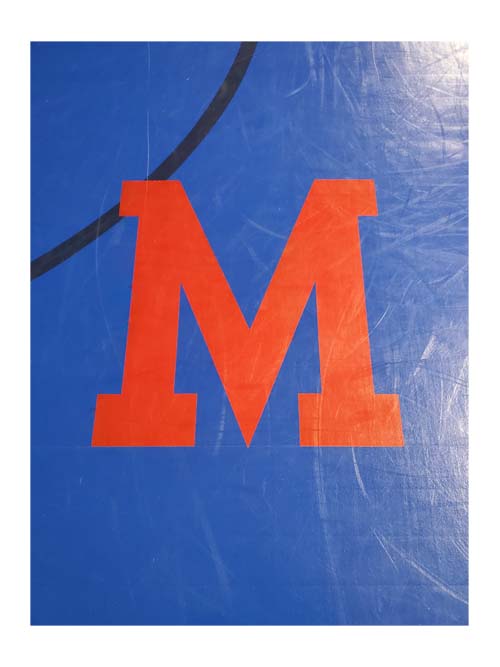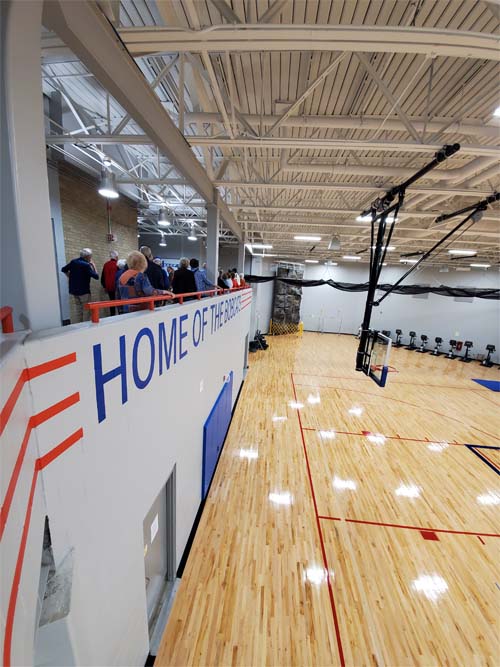 Entering the hallway around the gym.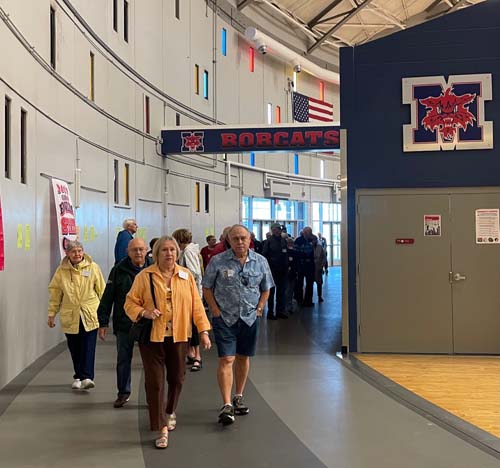 Working up an appetitie for Maid-Rites! Rhonda Gooding and Jack Gooding '59.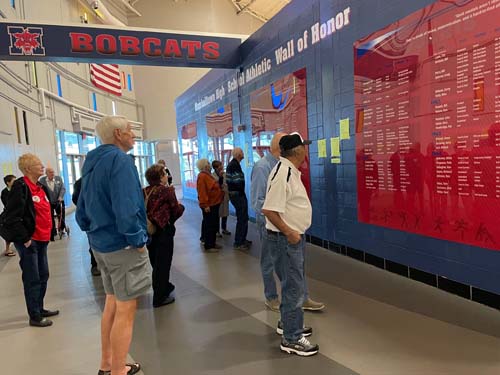 David Hansen '59 and Stan Wooster '58 are probably reminiscing about their sports
years at MHS.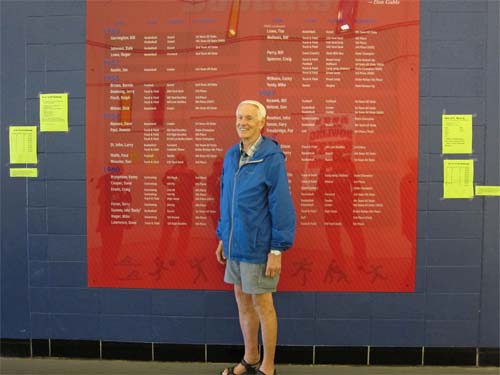 Yep. David stands next to his name on the Hall of Fame.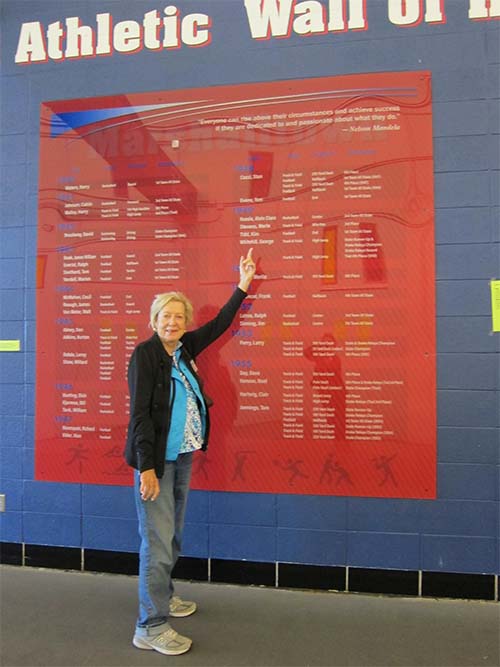 Charlene Hayne Holabird '52 points to the name of one of her friends.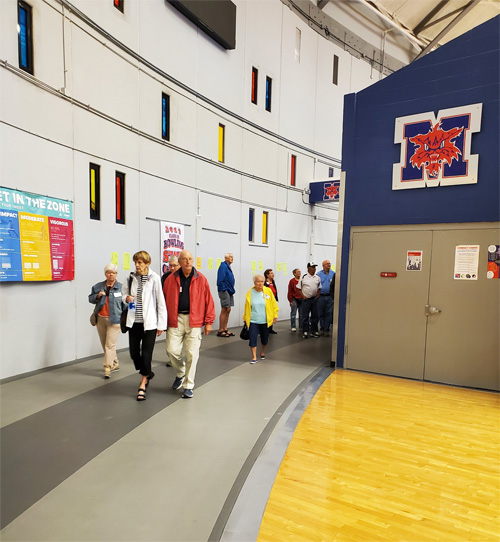 Bev Bailey Kaufmann '54 and Darol Kaufmann '54 take the stroll around the Roundhouse
walkway.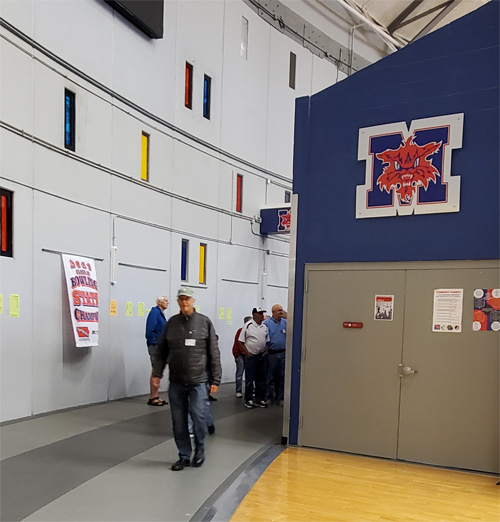 Bob Norris '56 may be remembering playing the male lead in Sabrina with Jean Seberg
in '56 more than sports.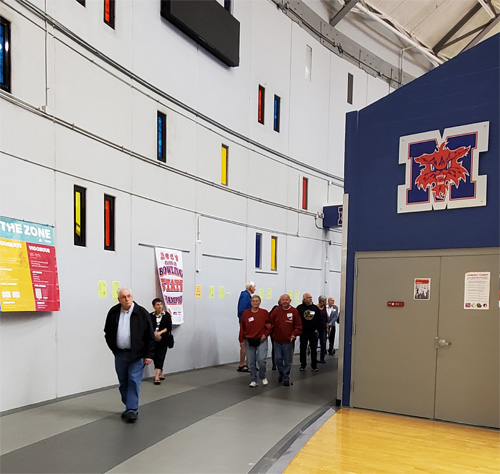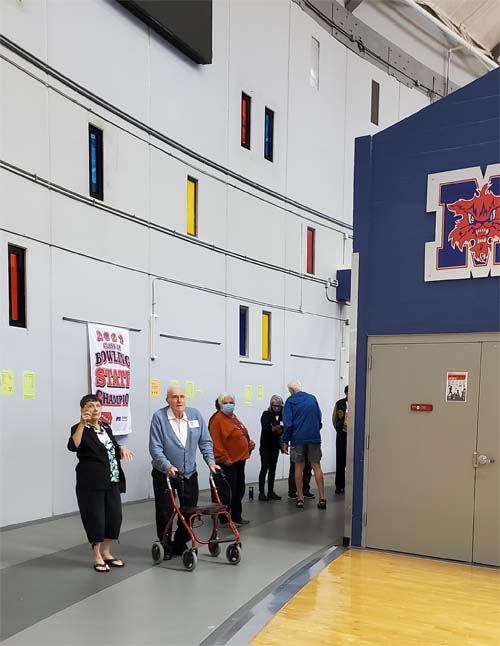 Betsey McCalley '51 and Charles Harvey '51 especially enjoy reminiscing.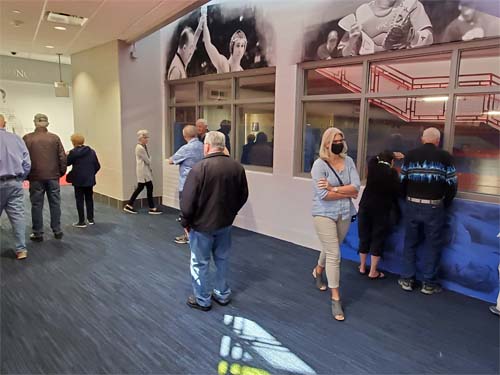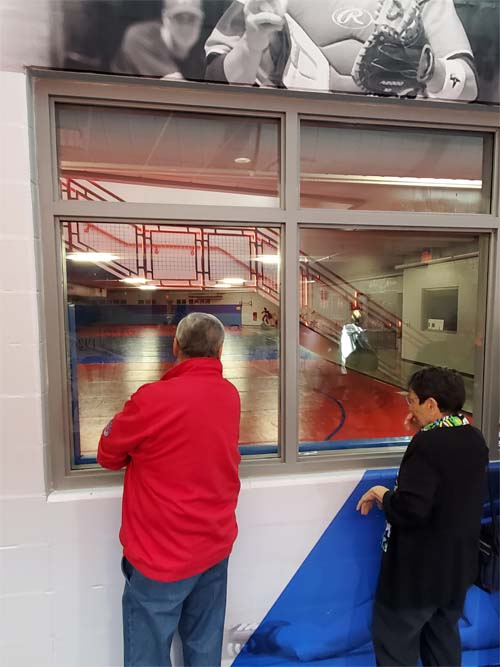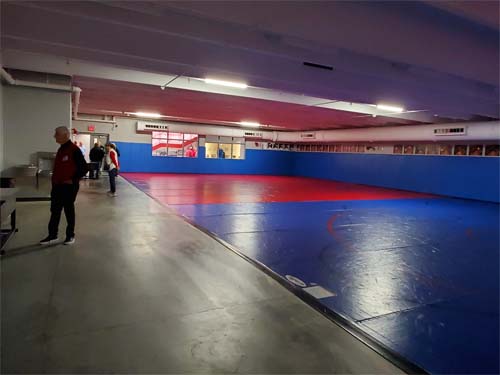 The wrestling room is dedicated to Allie Morrison '26, Marshalltown's only
Olympic Champion.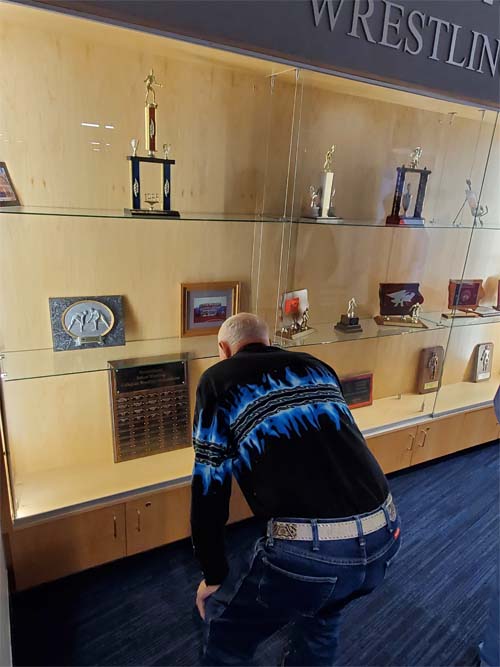 A lot of wrestling awards.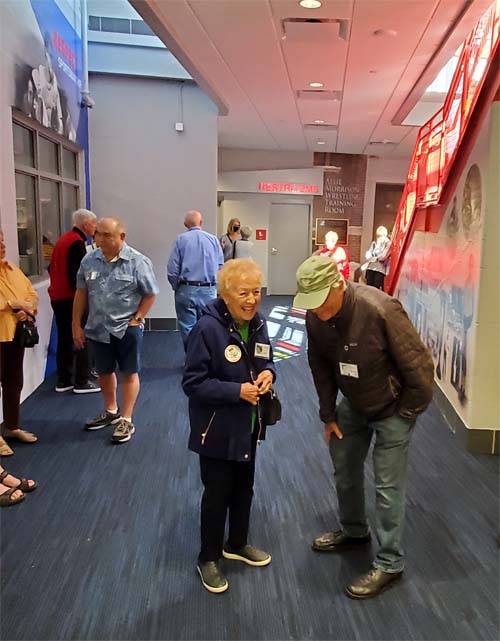 Norma Turner Speer '53 and Bob Norris '56 share a fun moment. Thanks, Norma, for all
your work on the committee! Norma is sister to Marlene Turner '57.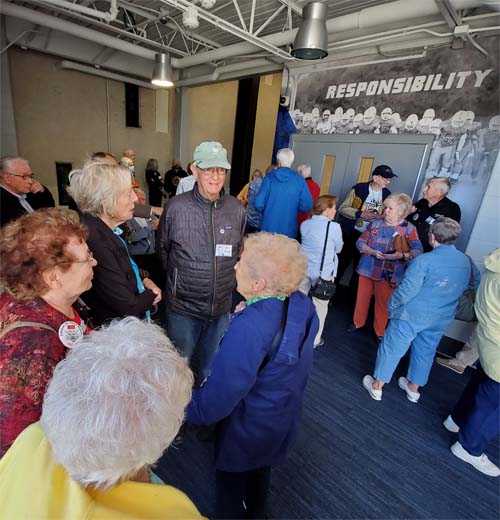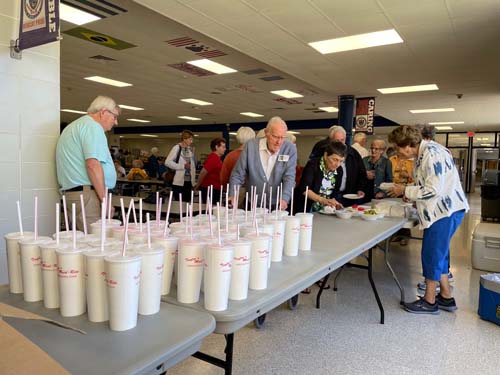 Kudos to Sandy Taylor Short '56 (on the right) for putting together the Maid-Rites and
shakes lunch for us. Yum!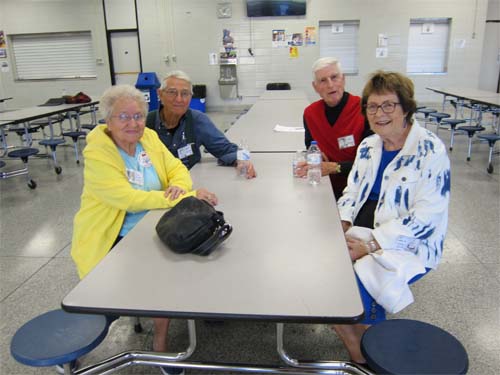 Pearl Schaper Ferneau '50, Bob Norris '56, Val Wilson '56 and Sandy Taylor Short '56
have a visit.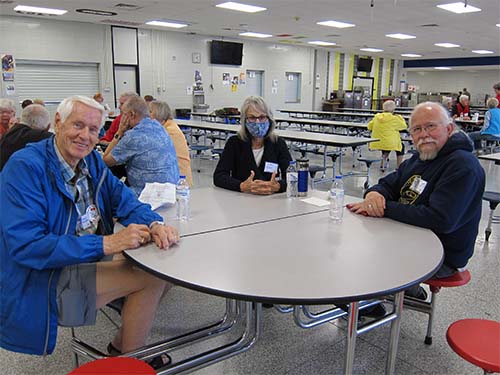 Dave Hansen '56, Linda Moore, and Bob Moore '59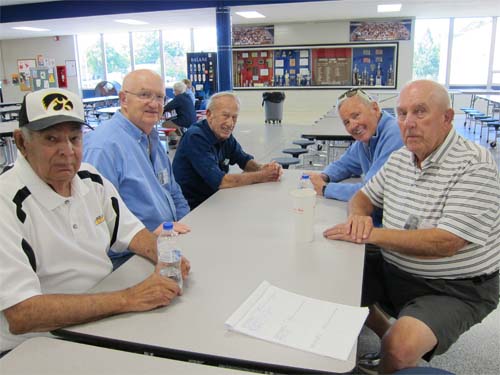 Stan Wooster (long-time MHS teacher), Burris Workman, Mike Brimmer, and Hoot
Niederhauser do some catching up for class of '58.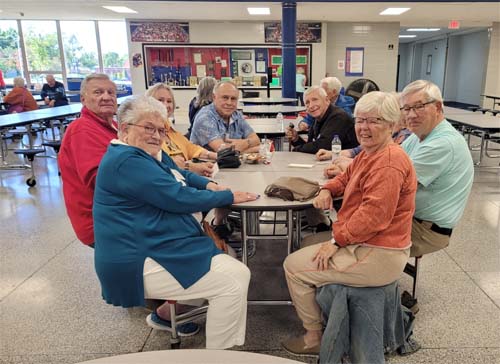 Judith Detrich, John Detrich '59, Rhonda Gooding, Jack Gooding '59,Denny White '59,
Ted Wiliams '59, and Meredith Williams.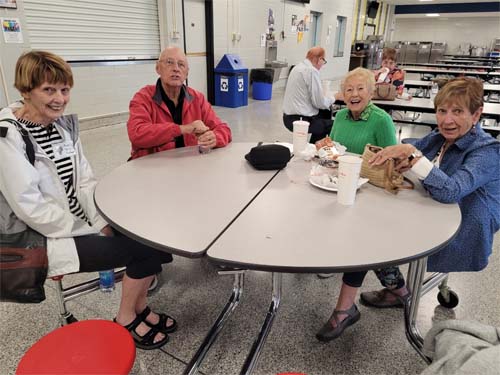 Bev Bailey Kaufmann '55, Darol Kaufmann '53, Norma Turner Speer '53, and
Bette Brennecke Stailey '53 having a good time.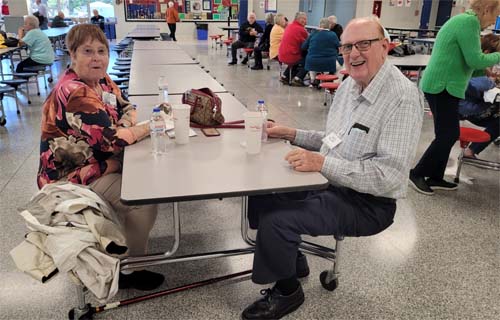 Ann McGregor Junker '58 and husband Wally.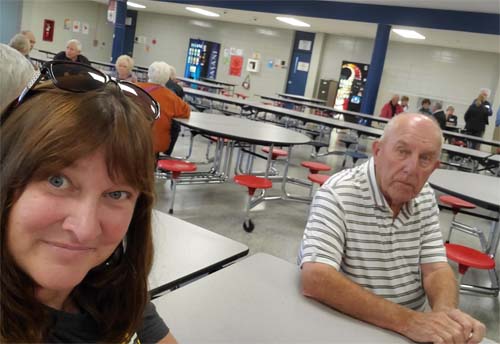 Bev Wilcox Collins' daughter Beth (thank you for picture taking!) visits with her cousin
Hoot Niederhauser '58. Tom Switzer '57 was Beth's dad.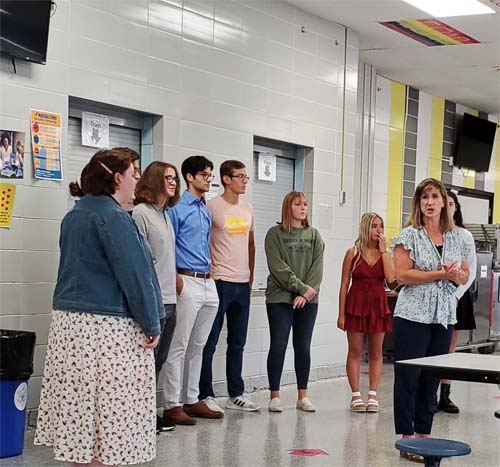 We had a surprise performance by one of the high school singing groups. Thank you!