Marshalltown

High School




Class of 1958
ANNOUNCEMENTS
Remembering our growing up years
The girls had gym uniforms. Red shorts if I recall, with an inner elastic band.
It took three minutes for the TV to warm up.
Nobody owned a purebred dog.
A quarter was a decent allowance. And made with real Silver.
You'd reach into a muddy gutter for a penny made with real copper. Looking to see if it was a 1943 copper penny!
Your Mom wore nylons that came in two pieces.
You got your windshield cleaned, oil checked, and gas pumped, without asking. And you didn't pay for air.Laundry detergent had free glasses, dishes or towels hidden inside the box.
It was considered a great privilege to be taken out to dinner at a real restaurant with your parents. Maybe that happened 1 to 3X a year.
A 57 Chevy was everyone's dream car...
No one ever asked where the car keys were because they were always in the car, in the ignition, and the doors were never locked.
Lying on your back in the grass with your friends and saying things like, 'That cloud looks like a...
Playing baseball with no adults to help kids with the rules of the game.
Stuff from the store came without safety caps and hermetic seals because no one had yet tried to poison a perfect stranger.
When being sent to the principal's office was nothing compared to the fate that awaited the student at home.
There weren't drive-by shootings, drugs, gangs, pandemics.
There were summers filled with bike rides, Hula hoops, visits to the pool, and drinking Kool-Aid.
Do you remember Howdy Doody and The Peanut Gallery, the Lone Ranger, The Shadow Knows, Nellie Bell, Roy and Dale, Trigger and Buttermilk.
Candy cigarettes. Wax Coke-shaped bottles with colored sugar water inside. Soda pop machines that dispensed glass bottles. Restaurants and coffee shops with Table Side Jukeboxes.
Blackjack, Clove and Teaberry chewing gum. Bubble gum. Home milk delivery in glass bottles with cardboard stoppers.
Newsreels before the movie.
4-digit phone numbers.

Hi-Fi's & 45 RPM records. 78 RPM records!
Green Stamps.
Mimeograph paper and purple all over your finger.
Catching The Fireflies Could Happily Occupy An Entire Evening?
Spinning around, getting dizzy, and falling down was cause for giggles?
The Worst Embarrassment was being picked last for a team?
Fab 50s Reunion Pictures
Fabulous 50s Reunion pictures have been posted in the Fab 50s Picture Gallery - see left navigation link on this page and click on the top one (not the Reunions link). There are pictures on the main link but also click on the right pointing arrow, which will open up more categories of pictures: Mixer at Midnight Ballroom, Maid-Rites at the High School, Parade and City Tour, Dinner-Elmwood, Breakfast at Best Western.
You can right click on a picture and save or copy it to your own computer.
If you have pictures to add, send as an attachment to bev@sitesandsounds.com.
If you see corrections needed on names in pictures, or names that can be added to pictures, please let me know.
Thanks, Bev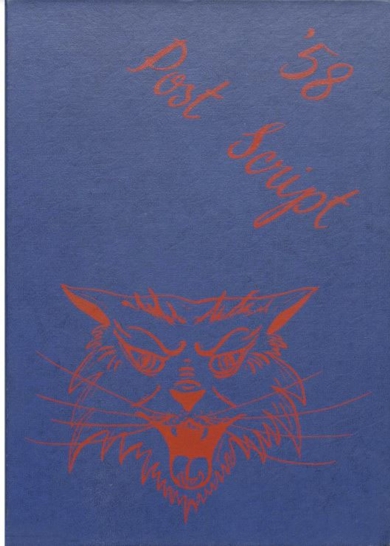 Enjoy our complete 1958 Yearbook. The high school has digital copies of yearbooks from 1950, so if you want to see other years, go to: https://drive.google.com/drive/folders/1fBLwu6z48bmfkmgChVGbz9BOvqDZUIMK
PLEASE LOG IN TO VIEW ALL THE OPTIONS AVAILABLE TO THE SITE USER
It would be of great help to the class site administrators if you would occasionally go to www.marshalltownhighschool58.com and log in to your Edit Contact Info page. Check your contact information and verify the accuracy of your Email Address, Mailing Address and Phone Number. You can locate this page by going to the left hand naviagion under MEMBER FUNCTIONS and clicking on "Edit Profile."
If you have changed your email address and not updated your Contact Info for some time, you may have permanent delivery failure of messages. To correct this, log in with your old email address and password and follow the instructions to correct permanent email delivery failure. If you have forgotten your old email address, contact bev@sitesandsounds.com. If you have forgotten your password, select the forgot password option, or I can give you a new temporary password.
If you do not see "Member Functions" in the left navigation, please log in.
Thank you.
To date there have been
347,864
hits on our home page
Take a stroll back to our teenage years: http://safeshare.tv/w/ FEDEwZHZXu

Thanks to Jan Pagel (1970), Diana Spick (1970), and Tracy Makler (1978)
for this YouTube video of old town Marshalltown.
Click on the picture to play the video.
(Clicking on this link opens a new page!)
School Hymn
Through the years at our MHS,
Red and blue will proudly fly;
And the spirit of it lingers
As each year goes by.
Many happy times together
Spent in perfect harmony
All these memories we will cherish
MHS of thee.
Lyrics by Marilyn Lawrence
Music by Armon Adams
Friends of the Class of 1958
If you're not from our class, but are a friend to the Class of '58 and would like to be added,
please select 'Contact Us' to send us your name, including maiden if applicable, along
with your senior class year and/or your class connection and we'll add you to the list.
Guest members are listed separately at the end of the Classmates page.
PRIVACY NOTICE: All contact information (address, phone number, e-mail address) entered into this website
will be kept confidential. It will not be shared or distributed. Your contact information is private:
your street address, e-mail address, and phone number cannot be seen by the classmates unless you
grant permission on your Profile. When someone clicks on your name, the only contact information they
will see is your city and state and whatever information about yourself you choose to put on your Profile.
Unless you explicitly grant your permission, your email address is not visible, although an email can be
sent to you using the contact box at the bottom of your Profile page. Note, however, if you send a message
to someone through their Profile page, the Classmate will see your email address so that they can respond.
You may choose to have your profile visible only to logged in classmates by checkmarking the Profile Visibility box.<