Marshalltown

High School




Class of 1958
ANNOUNCEMENTS
Here's a neat thing you can do if you want to look at several different classmates' profiles:
Open up the Classmates page where all classmates names are listed. Click on one classmate to open up on a different tab. Grab that tab and drag the whole tab/page off the browser, so now you have 2 pages open. Now go back and click on another classmate name. That new classmate page will open on the tab you moved off.
Gene Henry Long - In Memory
MARCH 11, 1939 – JULY 1, 2018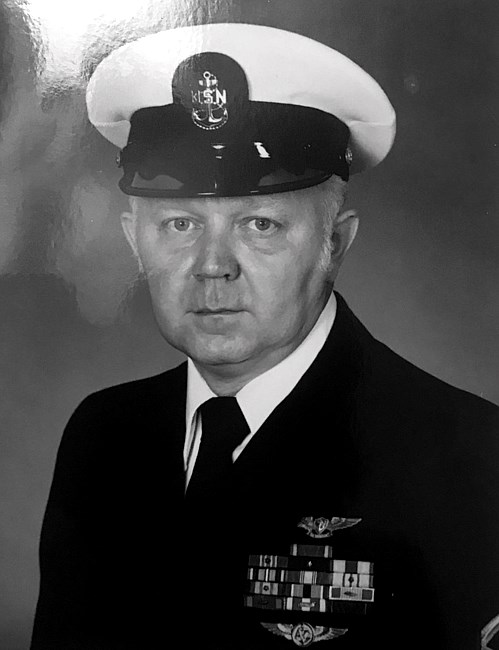 PRC (AW/NAC) USN (Ret) Gene Henry Long passed away July 1, 2018 at the age of 79. He was born March 11, 1939 in Marshalltown, IA to Clifford and Mikell Long. He was preceded in death by his wife of 39 years, Diane (Brodigan) Long and is survived by his 5 sons; John Long, Curtis (Maria) Smith, Derek Smith, Chris Smith, Joseph Long; daughter, Joni Day; brother, Doug (Donna) Long; sister, Betty-Jane Westphal; 9 grandchildren Michael, Jennifer, and Ashley Long, Travis and Marissa Day, Cameron, Colin and Connor Smith and Gabriella Long; and 8 great-grandchildren. Gene joined the Navy in 1959 and served at sea on USS Hancock CV-19 and USS Wasp CV-18, in the Vietnam Theater of Operations during the Vietnam War. Gene also served tours of duty at NAS PAX River MD, NAS Agana, Guam, NAS Lemoore, CA, NAS Whidbey Island, WA, NAS Pensacola, FL, and NAS Moffett Field, CA. Gene served his country honorably until he retired in October 1986. He was an "old school" sailor's sailor and absolutely loved to share his many colorful sea stories with his family and friends. The family requests that in lieu of flowers, please make a donation to The American Cancer Society. A Visitation will be held 11 AM Friday July 13, 2018 at HARDAGE-GIDDENS RIVERMEAD FUNERAL HOME 127 Blanding Blvd Orange Park, Florida 32073. We invite you to leave words of comfort at www.hardage-giddensrivermead.com
PLEASE LOG IN TO VIEW ALL THE OPTIONS AVAILABLE TO THE SITE USER
It would be of great help to the class site administrators if you would occasionally go to www.marshalltownhighschool58.com and log in to your Edit Contact Info page. Check your contact information and verify the accuracy of your Email Address, Mailing Address and Phone Number. You can locate this page by going to the left hand naviagion under MEMBER FUNCTIONS and clicking on "Edit Profile."
If you have changed your email address and not updated your Contact Info for some time, you may have permanent delivery failure of messages. To correct this, log in with your old email address and password and follow the instructions to correct permanent email delivery failure. If you have forgotten either your old email address or password, contact bev@sitesandsounds.com.
Thank you.
Try a new browser
Hello Dinosaur. That's me. I've been using Internet Explorer for my browser for+ever. I just didn't like the others. But, as IE disintegrated from lack of updates, I've tried Edge, Chrome, Mozilla, Firefox, Safari, Opera. And always came back to IE. But not this time. If you have tried others and didn't like them, give Brave a try. It has a lot of similarities to IE and takes only a few minutes to set up and import your favorites from your current browser. It doesn't keep stalling like IE and loads quickly. Bev
To date there have been
225,384
hits on our home page
********************
One of our classmates shared this website for Rock 'n Roll Dance Show Medley. See it.
Take a stroll back to our teenage years: http://safeshare.tv/w/ FEDEwZHZXu
Remembering our Class of 1958
50th Class Reunion!
TOP 10 REASONS we are happy we attended!!!
**We did laugh, cry and reminisce with some of our OLDEST friends.
**We didn't care how old we were.
**Thrilled to see classmates even if it was their first reunion.
**We definitely rekindled and began new relationships.
**Expressed positive experiences we had in high
school, letting people know, everyday things
people did, some people carried in their hearts
for 50 years and had a chance to tell them.
**After 50 years, everyone looked wonderful.
**THE COMMITTEE WAS HUMBLED BY THE TURN OUT**
**Our reunion WAS full of jovial reminiscing.
**The class picture turned out GREAT!!
**AREN'T YOU GLAD YOU CAME!!!!!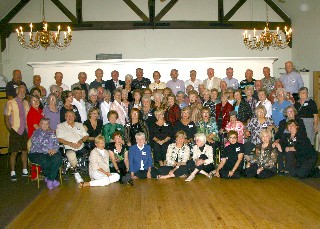 50-Year Class Reunion Picture
Seated on floor L-R: Mary Gail Noid, Donna Fugate, Janet Rogers, Deanna Dobson, Mary Pattie, Kaylene Gallentine, Renie Gummert, JoAnn Ritland
Row 1 chairs: Kay Richeson, Lonny Poland, Susan Smith, Roberta Hodgdon, Ann McGregor, Sharon Miller, Darlene Kruse, Janice Harvey, Donna Burgess, Sandra Spencer, Marilyn Kneeland
Row 2: Peggy Brainerd, Doris Borton, Martha Ward, Stan Wooster, Kay Meldahl, Pat Twedt, Zelda Dannen, Marilyn Reisinger, Linda Lamer, Linda Momberg, Sandy Glans, Maris Colllins, Judy Weaver, Bev Benson, Marcia Davenport, Jeannie Cook, Joan Robertson, Bonnie Burnham, Sharon Ness, Karen Kralik
Row 3: Pat Barker, Nancy Yeager (behind Peggy), Lee Willim, Avonelle Smith, Dick Horton, Jean Peak (behind Stan), Dave Drew, Betty Pritchett (behind Linda Momberg), Jane Lynch, Ron D'Orazio, John Strever, Bev Wilcox, David Hemphill, Mimi Wolfe, Penny Proctor, Bob Mason, Dave Thomas
Row 4: Gary McCormack, Lenoard Schnathorst, Pat Dyrland, Richard Loney, Hal Loney, Gary Loney, Nancy Thomas, Dick Rhiner, Herb Long, Terry Wehrman, Dale Burkheimer, Nile Brennecke, Tim Merrill, Hoot Niederhauser, Mike Brimmer, Burris Workman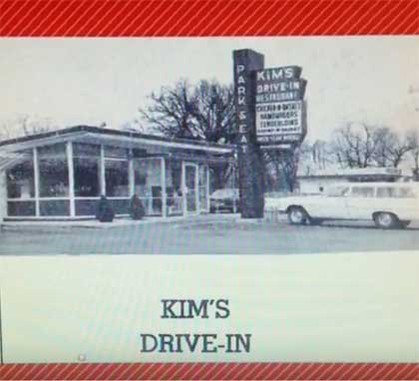 Thanks to Jan Pagel (1970), Diana Spick (1970), and Tracy Makler (1978)
for this YouTube video of old town Marshalltown.
Click on the picture to play the video.
(Clicking on this link opens a new page!)
School Hymn
Through the years at our MHS,
Red and blue will proudly fly;
And the spirit of it lingers
As each year goes by.
Many happy times together
Spent in perfect harmony
All these memories we will cherish
MHS of thee.
Lyrics by Marilyn Lawrence
Music by Armon Adams
Friends of the Class of 1958
If you're not from our class, but are a friend to the Class of '58 and would like to be added,
please select 'Contact Us' to send us your name, including maiden if applicable, along
with your senior class year and/or your class connection and we'll add you to the list.
Guest members are listed separately at the end of the Classmates page.
PRIVACY NOTICE: All contact information (address, phone number, e-mail address) entered into this website
will be kept confidential. It will not be shared or distributed. Your contact information is private:
your street address, e-mail address, and phone number cannot be seen by the classmates unless you
grant permission on your Profile. When someone clicks on your name, the only contact information they
will see is your city and state and whatever information about yourself you choose to put on your Profile.
Unless you explicitly grant your permission, your email address is not visible, although an email can be
sent to you using the contact box at the bottom of your Profile page. Note, however, if you send a message
to someone through their Profile page, the Classmate will see your email address so that they can respond.
You may choose to have your profile visible only to logged in classmates by checkmarking the Profile Visibility box.<