Marshalltown

High School




Class of 1958
ANNOUNCEMENTS
Send us your photos.
Have you a good photo of yourself or one of your classmates you would like to share? Send to Bev and I'll post it on the website for 3 weeks. Thanks.
In Memory of
Eleanor Riepe Anders
January 4, 1945 - August 7, 2014
ANDERS-WORKMAN, Eleanor T. Riepe, of Richmond, Virginia died peacefully at home surrounded by her family on Thursday, August 7, 2014. The first child and daughter of Joseph Creighton Riepe, Jr. of Baltimore, Maryland and Florence Eloise Daniel of Rome, Georgia, Eleanor was born January 4, 1945 in Richmond, Virginia and raised on Arcadia Farm in Charlotte Court House, Virginia.
Eleanor was predeceased by her grandparents John Hannah Daniel and Eloise Burney Daniel, and Joseph Creighton Riepe, Sr. and Eleanor Thomas Stump, her father Joseph Creighton Riepe, Jr., and her brother Joseph Creighton Riepe III.
Survived by her husband, Burris A Workman
; her daughter, Allison Daniel Anders; her son, John Creighton Anders; her daughter-in-law, Alison Higgs Anders; her grandchildren, Emma Daniel Anders and George Fredrick Anders; her mother, Florence Daniel Riepe Kalbacker; her sister, Jacquelyn Riepe Hill; brother-in-law, Hunter Roland Hill; sister-in-law, Sandy Johnson Riepe, and loving nieces and nephews.
Eleanor graduated with a B.A. in English from Queens University in Charlotte, North Carolina in 1966 and from Virginia Commonwealth University with a Masters in Interdisciplinary Studies in 1988. She worked for 19 years at Lawyer's Title/Land America before transitioning to her second career as a Licensed Professional Counselor. Long before she was a mental health therapist, Eleanor kept an open door, always welcoming family and friends to her table with a fresh pot of black coffee, a warm hug, and an open heart. A fierce ally and loving protector, Eleanor offered exuberant support and love to those who knew her. Her bright company and sparkling laugh lifted up many souls. As a mother she was always ready with an encouraging cheer from the sidelines, unconditional support, and unwavering love. The grace and determination she personified in her fight against pancreatic cancer awed family, friends, and doctors alike. Eleanor was an avid reader and loved to travel as much as she loved to come home.
Family and friends will celebrate her life at 10:00a.m. Saturday, August 16, 2014 at The Gayton Kirk Presbyterian Church, 11421 Gayton Road, Henrico. In lieu of flowers, memorials may be made to the Bon Secours Cancer Institute, the Central Virginia Food Bank, or The Gayton Kirk Presbyterian Church Memorial Garden. Condolences may be offered at
woodyfuneralhomeparham.com.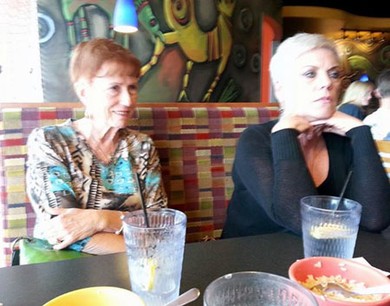 Donna Fugate Priester with daughter Jo Lynn (Lunch at Hu Hot with Bev Wilcox Collins and daughter Beth).
In Memory
Betty Pritchett Zern
May 16, 1940 - August 18, 2014

Betty Jean Zern, 74, of Conrad, IA passed away Monday, August 18, 2014, at Oakview Nursing Home, in Conrad under the care of Care Initiatives Hospice. Betty fought a lengthy battle with the disease of Alzheimer's, and had recently been diagnosed with kidney cancer. Funeral services will be held 2:00 p.m., Wednesday, August 20, 2014, at the Conrad United Methodist Church. Visitation will be held from 5:00 p.m. to 8:00 p.m., Tuesday, August 19, 2014, at the Conrad Chapel of the Anderson Funeral… Homes. Interment will be at the Conrad cemetery. Memorials may be directed to Care Initiatives Hospice, Alzheimer's Association, and Art Without Boundaries (art therapy program for Alzheimer's patients) Online condolences may be sent to www.andersonfhs.com.

Betty was born May 16, 1940, in Swaledale, IA and adopted by Walter and Ada (Edwards) Pritchett as an infant. Betty was united to her birth mother, Irene Stowe of Mason City on June 11, 1966. She graduated from Marshalltown High School in 1958. Betty was united in marriage to Robert Fred Zern March 25, 1961, in Conrad. She earned her R.N. degree in 1979 from Marshalltown School of Nursing. Betty was employed by the Iowa Veterans Home, Wolfe Eye Clinic, Lennox, and lastly assisted in the training of CNAs at Marshalltown Community College. She was a member of the Conrad United Methodist Church.

Betty will be missed by two sons; Paul Zern of Conrad, David (Kari) Zern of Morton IL, a daughter, Deborah (Roy) Sharp of Conrad, six grandchildren: Allison, Robert, and Sara Sharp; Emma, Jack, and Joseph Zern; a half-sister, Carol (John) Luse of Osage IA; two half-brothers, Willis (Dotty) Stowe of Mrytle Beach SC, and Kurt (Jan) Stowe of Rockford IA. She was preceded in death by her husband Robert, father Walter, and mothers Ada and Irene.

The family would like to thank the staff of Grandview Alzheimer's Special Care Center, Oakview Nursing Home, and Care Initiatives Hospice for all their care and support.
To date there have been
90763
hits on our home page
Listen to the Bobcat Band!
(Clicking on this link opens a new page!)
School Hymn
Through the years at our MHS,
Red and blue will proudly fly;
And the spirit of it lingers
As each year goes by.
Many happy times together
Spent in perfect harmony
All these memories we will cherish
MHS of thee.
Lyrics by Marilyn Lawrence
Music by Armon Adams
Friends of the Class of 1958
If you're not from our class, but are a friend to the Class of '58 and would like to be added, please select 'Contact Us' to send us your name, including maiden if applicable, along with your senior class year and/or your class connection and we'll add you add you to the list. Guest members are listed separately at the end of the Classmates page.
PRIVACY NOTICE:

All contact information (address, phone number, e-mail address) entered into this website will be kept confidential. It will not be shared or distributed. Your contact information is private: your street address, e-mail address, and phone number cannot be seen by the classmates unless you grant permission on your Profile. When someone clicks on your name, the only contact information they will see is your city and state and whatever information about yourself you choose to put on your Profile. Unless you explicitly grant your permission, your email address is not visible, although an email can be sent to you using the contact box at the bottom of your Profile page. Note, however, if you send a message to someone through their Profile page, the Classmate will see your email address so that they can respond. You may choose to have your profile visible only to logged in classmates by checkmarking the Profile Visibility box.